Since graduating from Middlesex Illustration course over ten years ago I have completed a variety of commissions and personal projects. The range of work has varied from detailed ink drawings, printmaking, designing a range of cards and a children's book among others.
In the past few years my work has focused on drawing highly detailed, black and white images of architecture and streetscenes. Sometimes these are left as stand alone drawings, other times digitally combined with colour.
I've also focused on printmaking, especially screenprint, combining detailed layers of colour to build up depth and texture. These have been exhibited regularly both locally and nationally with some having been shortlisted for art prizes.
I've also been selling a range of goods online, including upholstered products such as the custard cream footstool which has featured in the Sunday Times Magazine among others.
I have done various projects and commission over the years including:
Various personal commissions of Leeds based buildings, Whitby, record shops.
Illustration of William Henry School for use in events and leaving gift.
Produced the custard cream and pink wafer footstools with the custard cream design being featured in Sunday Times Magazine, Homes and Antiques and The Lady among others.
Humans of Leeds illustration for online blog.
Range of cards sold online and in Yorkshire based shops.
East Street Arts – commissioned to produce 2 pieces for new libraries in Chapeltown & Harehills in Leeds.
Waterstones gift card winning design selected to use in stores nationwide.
Carlton Books – illustrated educational children's book  "Big Book of Baddies". 11 double page spreads, back and front cover, back of playing card design incorporating character design. Published in 2008.
Other clients include Catch 22 magazine, Vibrations Magazine and Touchnote cards.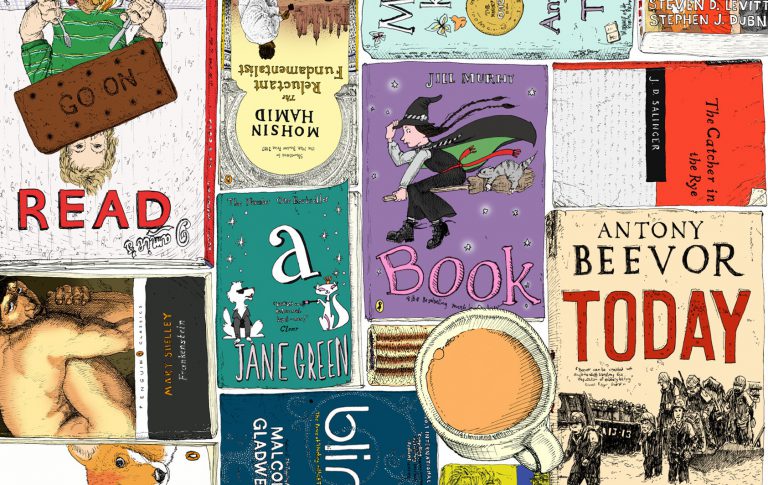 I've exhibited in various venues locally and nationally including being shortlisted for a few prizes:
art@roundhay park – the English Art Co. 2018/19
Secret Art Project for St Gemma's Hospice – exhibition and auction 2018
shortlisted for the Haworth Art Prize 2016-the Mall Galleries, London
Leeds Print Festival, 2016
shortlisted for the Flourish Award 2015-West Yorkshire Print Workshop
shortlisted for the neo:artprize 2015-neo:gallery, Bolton
shortlisted for the Haworth Art Prize 2015-The Mall Galleries
Leeds Print Fair-most years.
Nicholls Delicatessen, Leeds, ongoing
Pudsey Wellbeing calender competition and exhibition 2015, Leeds
St Gemma's Open Art Exhibition, Leeds, several occasions
Others including Inkwell, Waterstones, Arts Cafe, Shine Business Centre, the Compton Centre, the Reginald Centre, Leeds Art Gallery Open Exhibition (all in Leeds), Canvassing Spurs (London), Contemporary Prints 3 ( London Print Studio), Liberte D'Expression (London).
Occasionally I get interviewed for things: